Targeting fans of certain genres of music has always been difficult for event marketers. Radio offers a few curated formats that can help reach big chunks of people at once, but there is never a guarantee that every listener has heard of the artist you are trying to promote. That's where Spotify Ad Studio comes in.
Spotify has 163 million monthly active listeners as of March 31, 2020. According to "The Infinite Dial" report by Edison Research and Triton Digital, the share of the public listening to online radio continues to grow. As of 2019, 60% of Americans ages 12 and older had listened to online radio in the past week & 41% of Americans are listening in a car using a phone.
Spotify allows you to target users based on the particular artists they listen to. You can even use their ad platform to perform artist research. The guide below will help walk you through how to advertise on Spotify.
Spotify Ad Studio
Spotify Ad Studio is a self-serve platform that allows you to create your own advertising campaigns. The minimum budget of $250 makes adding Spotify to your advertising plan a very simple proposition.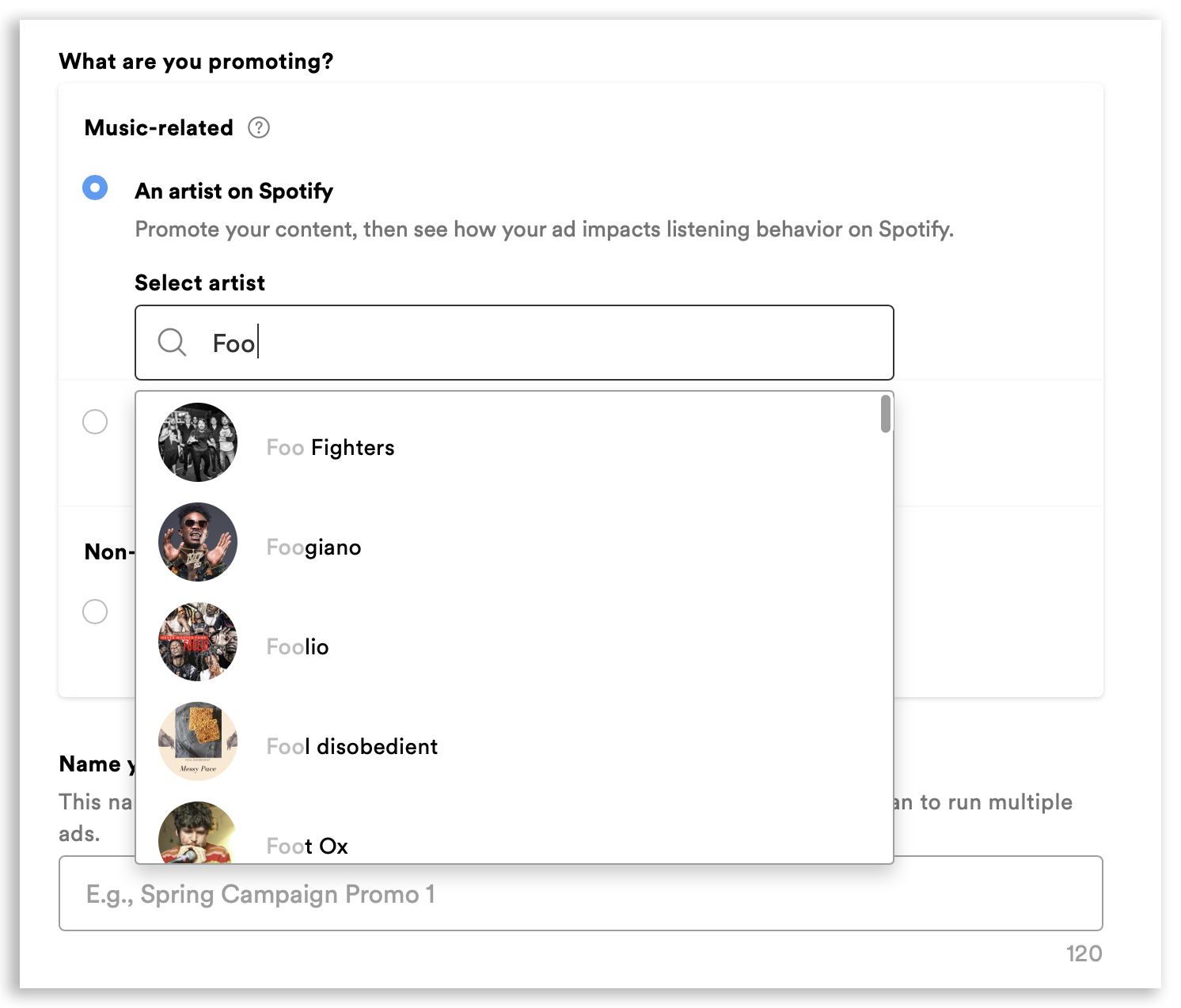 How to create Spotify Ads

Log in to your Spotify Ad Studio account
Click 'Create an ad'
Select what you are promoting

An Artist on Spotify
A Concert or Artist Merch
A Brand, Product, or Organization

Name Your Ad
Set your schedule and budget (You have to spend at least $250)
Set your demographic targeting parameters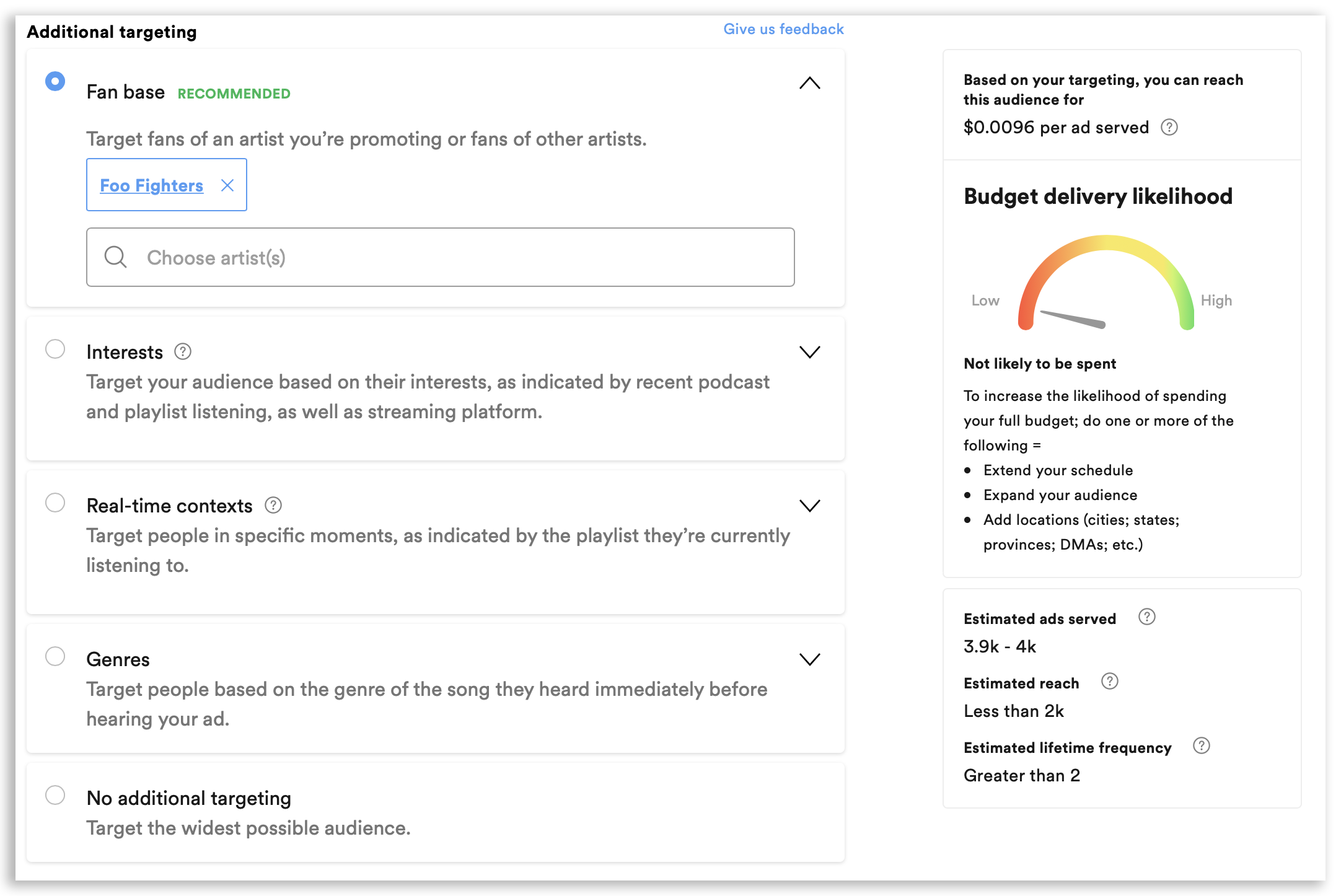 You can target by these additional parameters:

Genres: Target people based on the genre of the song they heard immediately before hearing your ad.
Fan Base: Target fans of an artist you're promoting or fans of other artist.
Interests: Target your audience based on a curated list of interests, as indicated by recent podcast and playlist listening.
Real-Time Contexts: Target people in specific moments, as indicated by the playlist they're currently listening to.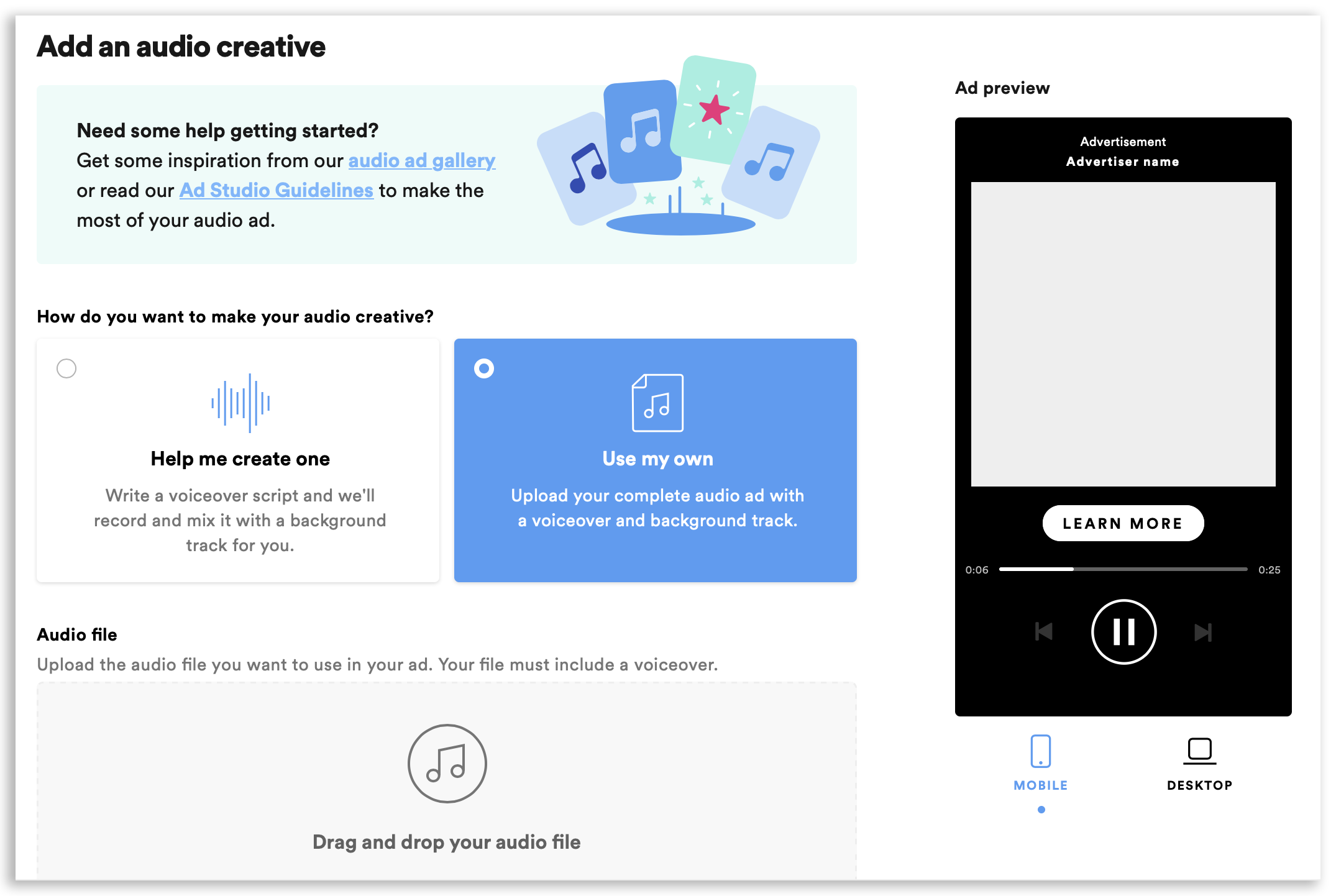 Add Your Audio

Upload your own audio ad
Write a voiceover script and they will record an ad for you with a specified background track.

Add an image, choose a CTA, and add the clickthrough URL
How much to Spotify Ads cost?
On average, you can expect Spotify ads to run about $20-$25 CPM (cost per thousand). That is slightly higher than a typical radio CPM, but with the added benefit of more accurate audience targeting. The minimum spend per campaign is only $250.
Are Spotify Ads Effective?
Your goal is to find people where they are and make sure they are aware of concerts, right? In many cases, users are making a conscious decision to search for and listen to a particular artist. That's a pretty good indicator that they are your target. Even if the audience is small, it is much more effective than loading morning drive with a bunch of rotators & hoping for the best.
Additional Spotify Resources
How To Use Spotify for Artist Research
Spotify Charts
Spotify For Brands
Spotify For Artists