Tracking the success of your digital efforts has come a long way. It's common for a publisher (Facebook, Twitter, Snapchat) to have tracking pixels you can place on your landing pages so that you can easily see how many clicks & conversions occurred. Better yet, you can optimize your campaigns in real-time to attract more users that are likely to convert.

What do you do when you need to measure the success of a campaign without the help of a tracking pixel? Ticketmaster had an answer for us long before we were placing pixels on landing pages. Simply add a Came From Code to the end of the URL you provide a publisher & you will be able to track clicks & conversions that occurred when using that URL.

Create A Came From Code (CFC)
The only downside to using Came From Codes is that it is a very manual process. Follow the steps below to create a Came From Code:
Log on to tm1 & Navigate to the Marketing Tab.
Select + Add a Came from Code
Select your organization.
Select Channel Type (Web, Social, Email, Paid Search, Paid Display, Paid Video, Online PR, Other)
Type in an easily recognizable Traffic Source (Facebook, Twitter, Google, AltWeekly etc..)
Type in an easily recognizable Campaign Description (Presale, Onsale, etc..)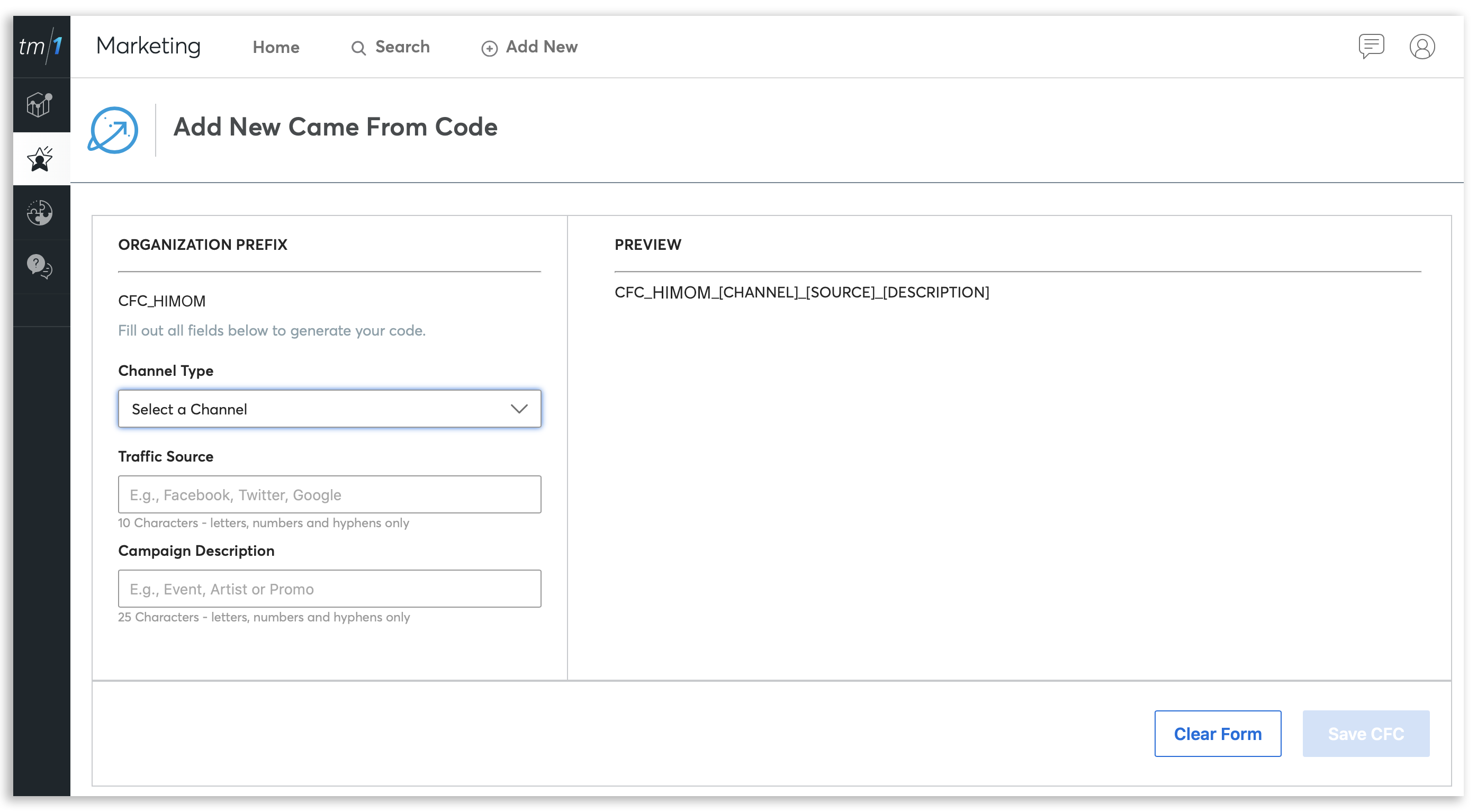 Add A Came From Code (CFC) To Your URL
Ticketmaster helps you build the URL. You can also manually add the CFC to the end of any Ticketmaster URL on your own.
After you create the Came From Code click Save CFC
You can select specific events you have on sale, select events via artist, or enter your event URL manually.
Ticketmaster will create the full URL for you so you can easily copy/paste.
Your URL should look something like this when you are done:
ticketmaster.com/event/0000000000000000?CAMEFROM=CFC_HIMOM_SEM_GOOGLE_PRESALE
If your URL already has variables on it, then just replace the ? with a &. It should look something like this when you are done:
ticketmaster.com/event/0000000000000000?awtrc-true&CAMEFROM=CFC_HIMOM_SEM_GOOGLE_PRESALE